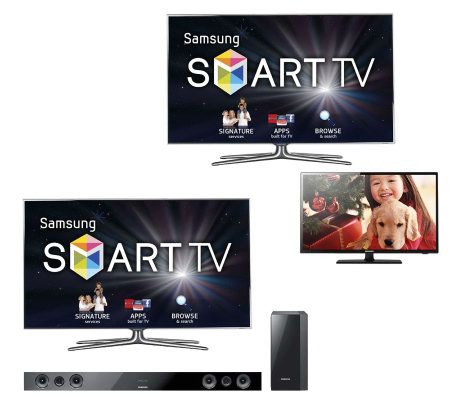 How about a 3D Smart TV with Sound Bar or another 32" LED TV for The Bedroom.
What you say Santa can't afford such a great gift? Oh, normally I know Santa can't, but
this year Santa got even smarter and bought it from
QVC
where he got it on
6 Easy Payments!!!
Can you say Oh Santa Baby.....
I am sure that's what hubby will be saying while he is watching the game on his
Can't you just see the family sitting around on Christmas morning watching the
Walt Disney Christmas Day Parade while wearing their pj's & sipping hot chocolate.
Today is the Last Day to catch this amazing deal, and believe me you won't find any other place where you can get such a great price, you can pay for it in 6 payments, they won't charge you interest and you can start enjoying your TV before it's payed for too!
46" $1499 6 Easy Payments of $249.83
55" $1999 6 Easy Payments of $333.17
60" $2499 6 Easy Payments of $416.50
"This is the thinest TV I ever seen"
Men if your wondering what to get your wife, girlfriend, mother, grandmother, teenage daughter, teen

age son,

sister, even for yourself if you believe in looking good, taking care of your face and looking younger this is the IT GIFT! I promise you, this is one of Oprah's favorite things year after year it's on the list!
THIS IS THE GIFT THAT SAVES YOU MONEY & MAKES YOU LOOK BEAUTIFUL!
"Look at the women on QVC see that glow they all use this product and have been using it for years. I been wanting one for years, but I never can afford it. I am going to buy it this time since it's on Easy Pay I can afford it! :) I LOVE QVC & Easy Pay

!"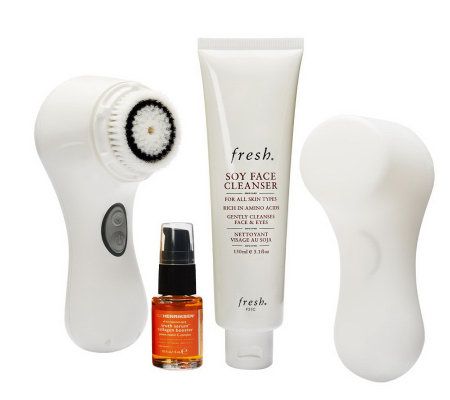 Comes in 8 colors including some really cool teen looking designs.
"

Hurry and by before midnight tonight and you'll get this amazing offer!"
Easy Pay! 5 Installments of $24.98, plus Tax FREE SHIPPING!
Mom's if you or your teen have a problem with zits or black heads, this is a great product for you. It is made by a Dermatologist and it is the one product highly recommended daily by doctors. They even sell them at the doctors office, but they come with a much higher price tag and they don't come with 5 Easy Payments either.
It's great for clearing up your skin, keeping it clean, letting your other products work since they can reach your skin better and you'll have younger more radiant skin.
Shop the Electronics Holiday Hot List today! Shop QVC.com!
Keurig Coffee & Brewers. Shop select offers, top rated & more at QVC.com!
We have one of these Keurig Coffee Makers I got it for my fiance last year for Christmas and he LOVES it! I LOVE it too, even though I don't drink coffee I do drink tea & hot coco

. It's so quick, easy, less mess and everybody can have what they want quickly.
We even have Apple Cider which makes the house smell great!
I purchased this super cute heater last year and we just LOVE it!
It's so
light and small that we can move it from room to room and even on our patio.
It even
has a switch to make it sound like a real wood burning. I love it
for many reasons, it saves me money by keeping the room we are in warm without having to warm the whole house. Many people are putting them in each bedroom. L
ike one caller said, why heat the kitchen and living room when we are in the bedroom
.
"Hey that's what I sai
d!" ;)
Don't worry it don't get hot an
d your children won't b
urn them se
lves even if they or the animals were to knock it over
. I doubt they ever
knock it over anyway it's not like that would be an easy task to do
Oh, it has a remote control
too!
Pr
ice is only $109.96 not Retail $145
or

Only

4 payments of $27.49
Come

s in 4 colors we have the Bronze.
Duraflame 750W/1500W Electric Stove Heater withLED Flame
Coming starting at 11pm will be the Olympus Digital Camera that was such a hot item it sold out super fast back in September. So, if your in the market for a great camera that is hot item this holiday season make sure you check it out at midnight. This will be on Easy Pay so don't forget, and I want to stress that you really should check it out quickly, because they are expecting to sell out again. Don't worry they have a lot of them, they just don't think they will last the whole day.
Another great pro
duct I am grabbing is
"I am super happy I found these on their site. They didn't show this on TV today so you can still order 1 if you hurry. Every single time they put them on TV they sell out I've been trying to get this for over a year! By chance I just looked for it and they have some in both colors too! This will be a gift for my grand daughter Bella". :)I am so excited, yeah...

Table Mate Children's Table & Chair with Activity Pouch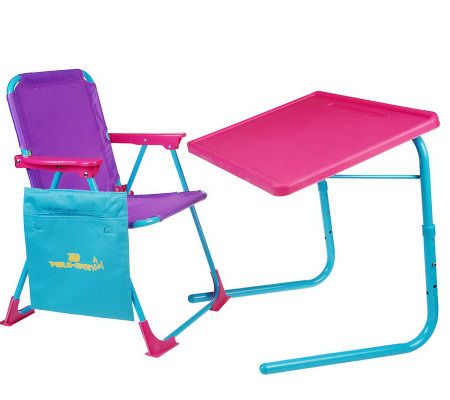 Skyline City, year 3000. Another urban colony on another nameless moon. The galaxy always needs more living space for the traders, the miners, the pilots, the farmers and the soldiers that ply the overdeveloped planets and the space lanes connecting them.