Welcome and thank you for stopping by.
Here you can find lots of great deals, saving you money in every area of your life.
Please subscribe to my daily updates and never miss a quick last minute deal again.
RSS Feed
Smart Moms Saves on Twitter
Laura Madere on Face Book.
Blog Frog Community.
QVC

Shop until December 20th noon ET at QVC.com and we'll guarantee delivery before
Christmas at no extra charge when you pay with a credit card!
Today's Deal! Shop QVC.com for one day only items at a low price!
Set of 2 Jesus Calling and Jesus Today Books by Sara Young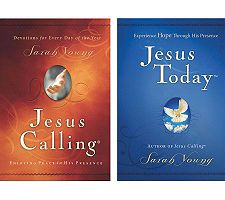 List Price: $31.98
Daily devotionals. Begin or end your day with Jesus Calling, an acclaimed best seller that's filled with inspired treasures from heaven for every day of the year. Newly released, Jesus Today is a book filled with renewed hope and finding hope in Jesus. Both books are wonderful to keep on your bed stand for daily reading, or to give as encouraging gifts to friends.
$59 for a Chocolate Gourmet Gift Basket ($120 value)
$15 for an iPhone 5 Lightning to 30 pin Adapter with a 10ft USB cable ($58 value)
$20 for Five Bags of Gourmet Coffee ($40 value)
Little boys & BIG Boys alike will LOVE this deal!
"What fun they'll have searching through all of these sports cards!"
What a GREAT Stocking Stuffer!
What sport are you into? Baseball? Hockey? Football? Basketball? They're all covered in this astounding box of sports cards. Get an instant collection with today's deal.
Up to 3,000 cards featuring athletes from baseball, football, basketball, and hockey.
Legends, Rookies, Hall of Famers, All Stars, etc!
- You also get the chance to receive:
- Babe Ruth Rookie Card Valued at over $5,000!
- Joe Namath Rookie Card Valued at over $1,800!
- Michael Jordan Rookie Card Valued at over $600!
- Wayne Gretzky Rookie Card Valued at over $500!
- And many other cards valued at over $1,000!

- Plus you'll receive a LeBron James Rookie Card and an autographed card or a card with an actual piece of a professional athlete's game worn jersey.

Great gift for children, fathers, husbands, boyfriends, collectors, dealers, investors and friends.

"Legends Clearing House is the world's largest sports card and memorabilia wholesaler," supplying some of the largest retailers in the country. Legends' amazing inventory includes baseball, football, basketball, and hockey cards and other sports memorabilia, as well as non-sports collectibles. Calling all sports fans. Whether you're a new or veteran collector… you can't miss with these sports cards from Legends Clearing House.
$13 - Make Library Waits a Thing of the Past with

BookPig.com ($26.99)
Today's Deal! Shop QVC.com for one day only items at a low price!